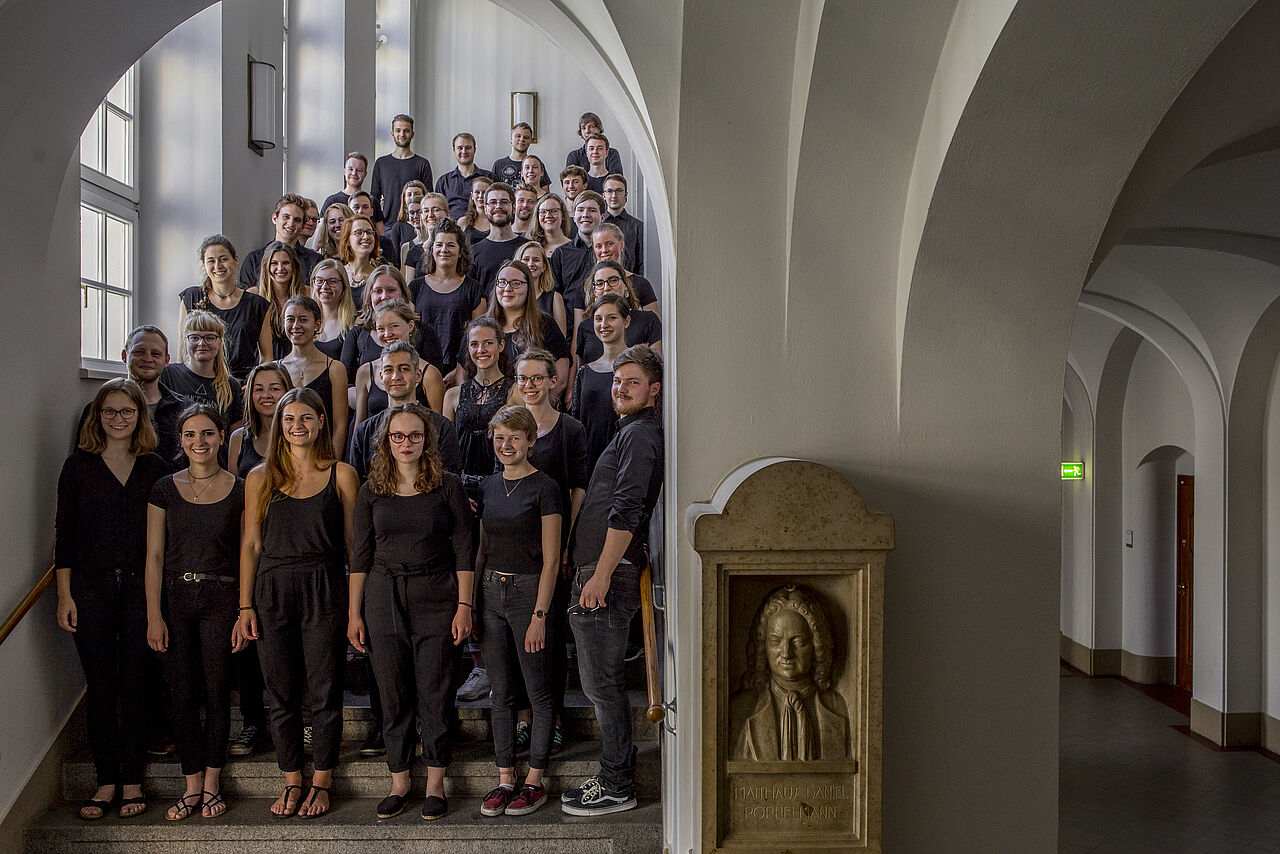 The orchestra introduces itself.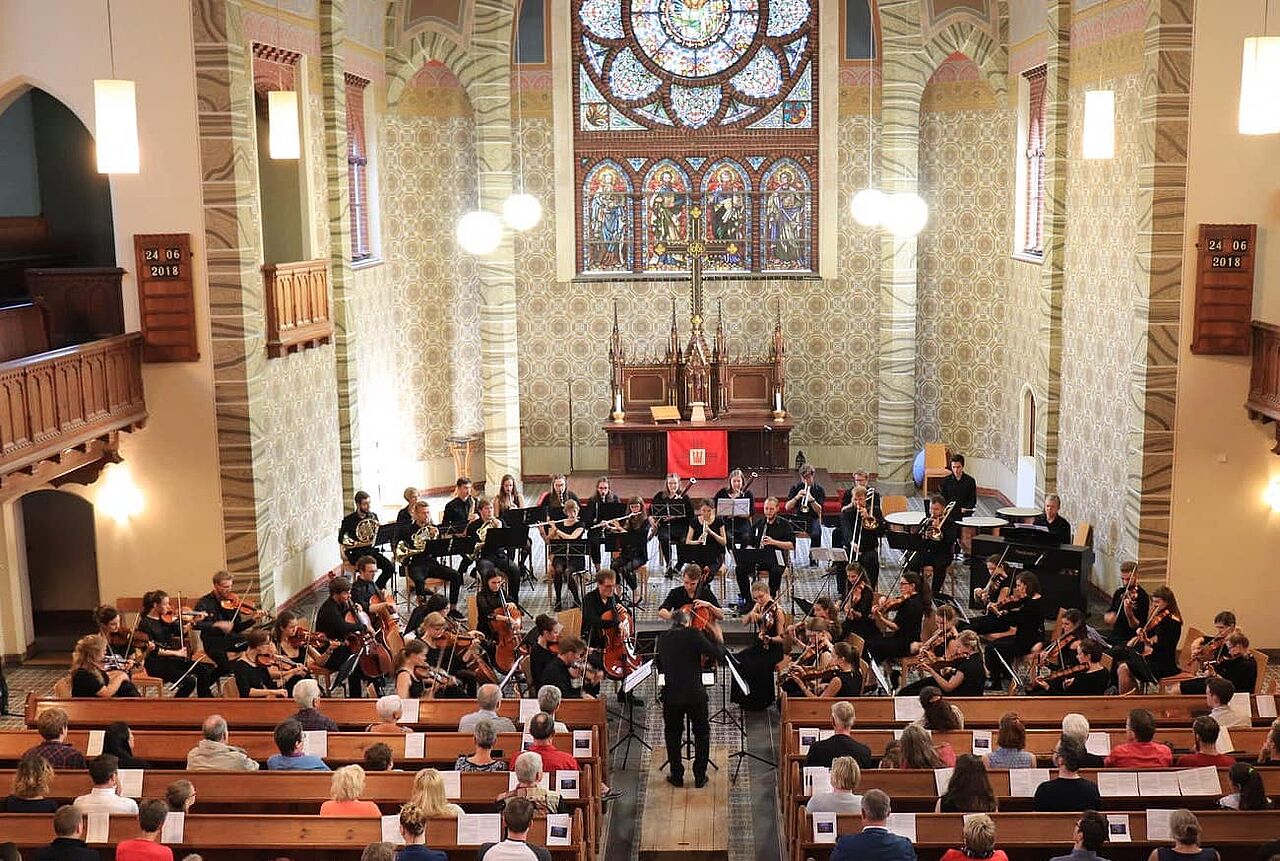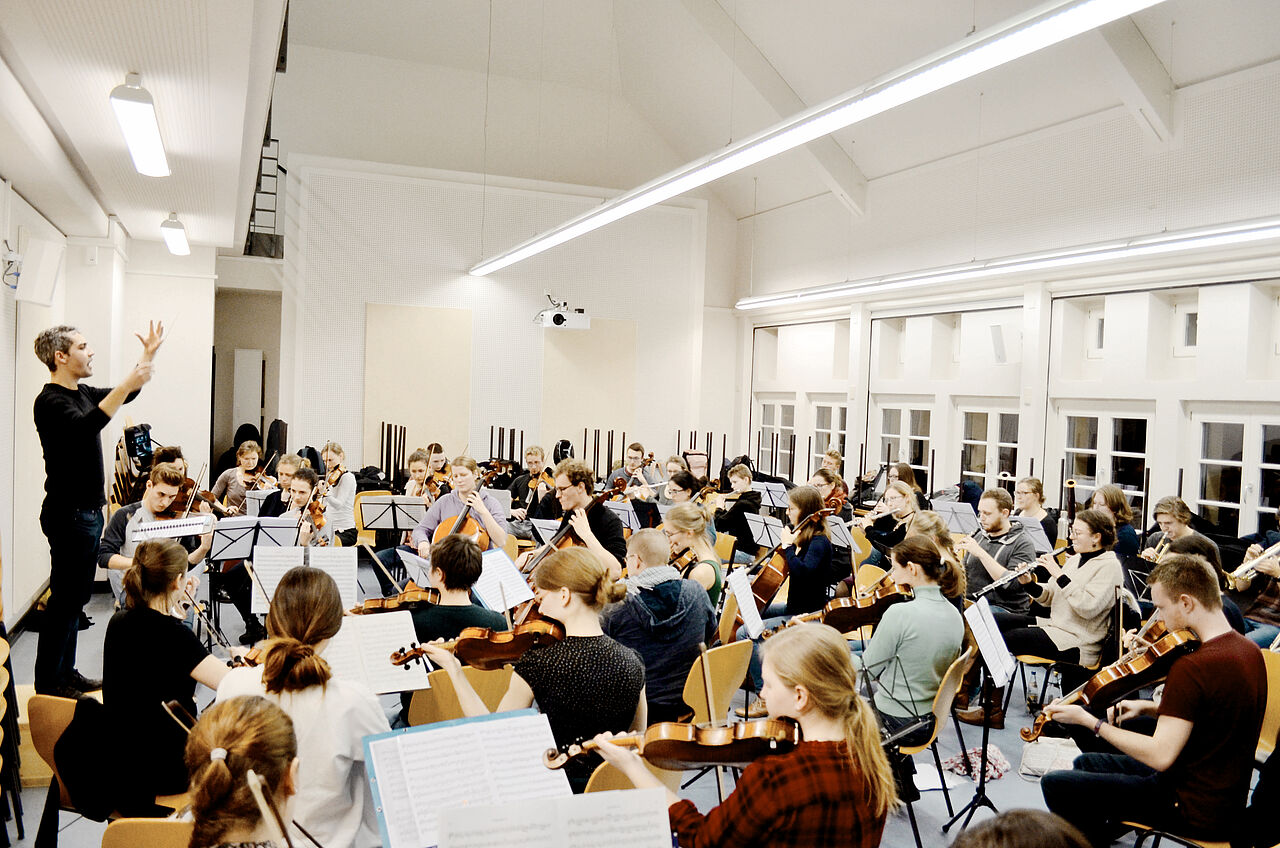 We are the orchestra of the University of Applied Sciences Leipzig (HTWK Orchestra): Our musicians are mainly students of all universities, but being a student is not necessary to be able to join us.
The first rehearsal took place in 2013 in a small group. Since then we were joined by many keen musicians so that we grew to be a big symphonic orchestra. Manuel Durão was conducting the orchestra almost since the beginning. His successor Matthew Lynch was the first conductor who was officially voted by the orchestra. Since the summer term 2019 he is conduction the orchestra.
Each semester represents a rehearsal period. This period is completed by two concerts at the end of each semester. Besides all the hard work we put into our rehearsals we make sure we don't miss our fun: For our so called "rehearsal weekend" we spent 3 days in a hostel a bit outside of Leipzig, to give every piece its final touch and even after a normal rehearsal you'll find people not tired enough to go home.
For the immatriculation of the new students our orchestra is musically contributing to the festivities at the Gewandhaus zu Leipzig.
Rehearsals take place during the semester: every Monday from 7.15 to 10 pm. We rehearse on the campus and in the auditorium of the Gerda-Taro-Gymnasium or in Zschochersche Straße 69.
Concerts in the summer semester 2022
Our last concerts took place on July 10th, 5pm PAX-Kirche and July 11th, 7:30pm Kupfersaal.
Our program:
Edward Elgar: Cello Concerto in e minor, op.85
Anton Bruckner: Symphony in d minor ("Nullte" Sinfonie)
Thanks to all who came, it was a pleasure! For those who missed it, here is a little snippet from Elgar´s Cello Concerto:
Konzerte im Sommersemester
Wir bedanken uns für zwei schöne Sommerkonzerte mit Euch und freuen uns Euch das nächste Mal wieder begrüßen zu dürfen. Bis dahin wünschen wir allen erfolgreiche Prüfungen und eine schöne Sommerpause.
Übrigens: Hast du einen Studienplatz an der HTWK Leipzig ergattert? Dann schau doch bei der Immatrikulationsfeier im Gewandhaus vorbei, das HTWK Orchester Leipzig wird diese musikalisch untermalen.
Orchestra statute passed! (July 2018)
We now have a statute where the orchestra structure and committee work is written down. The statute is in German language and can be found here.
Rehearsals take place during the semester each Monday from 7.15 to 10 pm. Tutti rehearsal take place in the auditorium of the Gerda-Taro-Schule and smaller rehearsals are located in Lipsius building on the campus.
You play an instrument and have some orchestra experience? You understand German and speak a little German? You're looking for an orchestra, that works hard in rehearsals but is also having fun together afterwards?
Then come and join us! At the beginning of each semester we organise auditions for new members to join. The next one will be at the beginning of the winter term 2022. Sign up via email, and about a week before, we'll tell you your specific time and room.
Conductor and head of musical decisions
Our orchestra is conducted by the conductor and flutist Matthew Lynch. He was educated at University of Oxford and the Hochschule für Musik "Carl Maria Weber" Dresden. Having founded an orchestra in his hometown Leicester at the age of 16, he has conducted and played with a variety of notable orchestras.
During the semester and at the rehearsal weekend, rehearsals for each section are held by students of the HMT Leipzig or professional musicians of the Gewandhausorchester.
Our committee is elected at the end of each semester for the following semester. We have persons responsible for coordination, finances, members, concerts, tutors & rehearsals and public relations.
Our committee organises concerts, rehearsals, auditions and is responsible for our webpage and Facebook page. You can contact each of us via Email.
2020
winter semester 2019/20:
Wolfgang Amadeus Mozart: Ouverture to Idomeneo, K.366
Bedřich Smetana: Vltava (Moldau) from Má Vlast (Mein Vaterland), JB 1:112/2
Robert Schumann: Symphony No. 3 "Rheinische", op. 97
2019
october 2019: Immatriculation festivities of the HTWK at the Gewandhaus Leipzig
John Williams: Music from "Star Wars"
summer semester 2019:
Nils Gade: "Efterklange af Ossian" Overture Op.1
Jean Sibelius: Finlandia Op. 26
Edvard Grieg: Symphonic Dances Op. 64
winter semester 2018/19:
Johann Sebastian Bach (A. Webern Bearb.): Ricercar a 6 aus "Das musikalische Opfer" BWV 1079
Antonín Dvořák: Symphony No. 9 "From the new world" Op. 95
2018
summer semester 2018: concert at the St. Lukaskirche and concert at the Oberlichtsaal of the Stadtbibliothek Leipzig
Georg Philipp Telemann: Ouvertüre in D-Dur TWV 55 D18
Georges Bizet: L'Arlésienne Suite No. 1 Op.23bis
Georges Bizet: L'Arlésienne Suite No. 2
Filmmusik aus "James Bond"
Felix Mendelssohn Bartholdy: Marsch aus der Ouvertüre zu Athalia (Kriegsmarsch der Priester) Op. 74
winter semester 2017/18: Concert at the Oberlichtsaal of the Stadtbibliothek Leipzig and concert at the Paul-Gerhardt-Kirche, Connewitz
Ludwig von Beethoven: "Egmont Ouvertüre" Op. 84
Niels Gade: Sinfonie Nr. 8
Lars-Erik Larsson: "En Vintersaga"
Jean Sibelius: "Valse triste"
2017
october 2017: Immatriculation festivities at Gewandhaus Leipzig
summer semester 2017: Concert at the Oberlichtsaal of the Stadtbibliothek Leipzig and concert with the HTWK-Choir at the Nathanaelkirche
Alexander Borodin: Sinfonie Nr. 3 in a-Moll, "Die Unvollendete"
Alexander Borodin: "Eine Steppenskizze aus Mittelasien"
Georg Friedrich Händel: Ouvertüre und Marsch aus dem "Gelegenheitsoratorium" (arr.: Manuel Durão)
Alexander Glasunow: "Marche sur un thème russe", Op. 76
Calvin Cluster (Arr.): "Star Trek Through the Years"
winter semester 2016/17: Concert at the Oberlichtsaal of the Stadtbibliothek Leipzig, Solist: Sofia Pinto (Sopran)
Franz Schubert: Sinfonie Nr. 8, "Die Unvollendete"
Giacomo Puccini: Arie "Tu che di gel sei cinta " (Turandot)
Guiseppe Verdi: Arie "Canzone del Salice" (Otello)
2016
October 2016: Immatriculation festivities at Gewandhaus Leipzig
summer semester 2016: Concert at the Oberlichtsaal of the Stadtbibliothek Leipzig and concert with the HTWK-Choir at the Paul-Gerhardt-Kirche, Connewitz
Felix Mendelssohn Bartholdy: Konzert-Ouvertüre Nr. 2, "Die Hebriden" Op. 26
Georg Philipp Telemann: Ouvertüre in D-Dur
Wolfgang Amadeus Mozart: Marsch in D-Dur
Howard Shore: Filmmusik aus "Der Herr der Ringe"
Bruno Coulais: Filmmusik aus "Die Kinder des Monsieur Mathieu"
winter semester 2015/16: Concert at the Oberlichtsaal of the Stadtbibliothek Leipzig, Solist: Carolina Alves (Trumpet)
Joseph Haydn: Sinfonie Nr. 104, "Londoner Sinfonie"
Joseph Haydn: Trompetenkonzert in Es-Dur
Heitor Villa-Lobos: "Bachiana Brasiliera No. 4" (arr.: Filipe Pinto)
Luiz Costa: "Campanários (Kirchturm)" (arr.: Filipe Pinto)
2015
summer semester 2015: Konzert in der Paul-Gerhardt-Kirche Leipzig
Ludwig van Beethoven: Sinfonie Nr. 1 in C-Dur, Op. 21
Fernando Lopes-Graça: Glosa IX (da "Moda de segada", de Vinhais) (arr.: Filipe Pinto)
Joao de Sousa Carvalho: "L'Amore Industrioso"
summer 2015: Concert at KUK-Festival (HTWK) along with the singer Max von Wegen
winter semester 2014/15: Concert at the HTWK Leipzig
Wolfgang Amadeus Mozart: Sinfonie Nr. 33
Gabriel Fauré: "Pavane"
1
Wintersemester Abschlusskonzert Paul-Gerhardt-Kirche, Januar 2018
2
Immatrikulationsfeier der HTWK im Gewandhaus, Oktober 2017
3
Immatrikulationsfeier der HTWK im Gewandhaus, Oktober 2016
4
Sommerkonzert in der Paul-Gerhardt-Kirche, 2016
5
Mit dem Sänger Max von Wegen, 2015
6
Immatrikulationsfeier der HTWK im Gewandhaus, Oktober 2017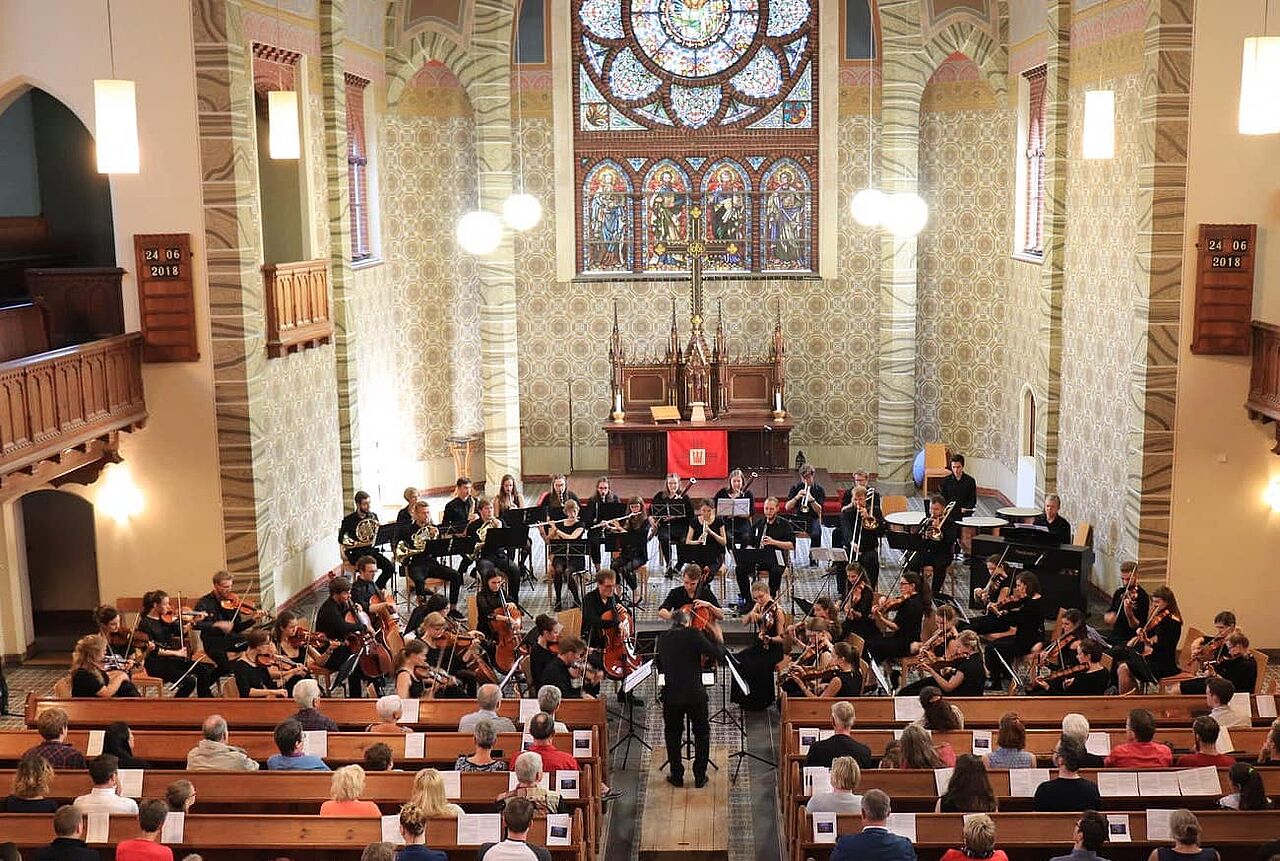 7
Sommerkonzert in der St. Lukaskriche, Juni 2018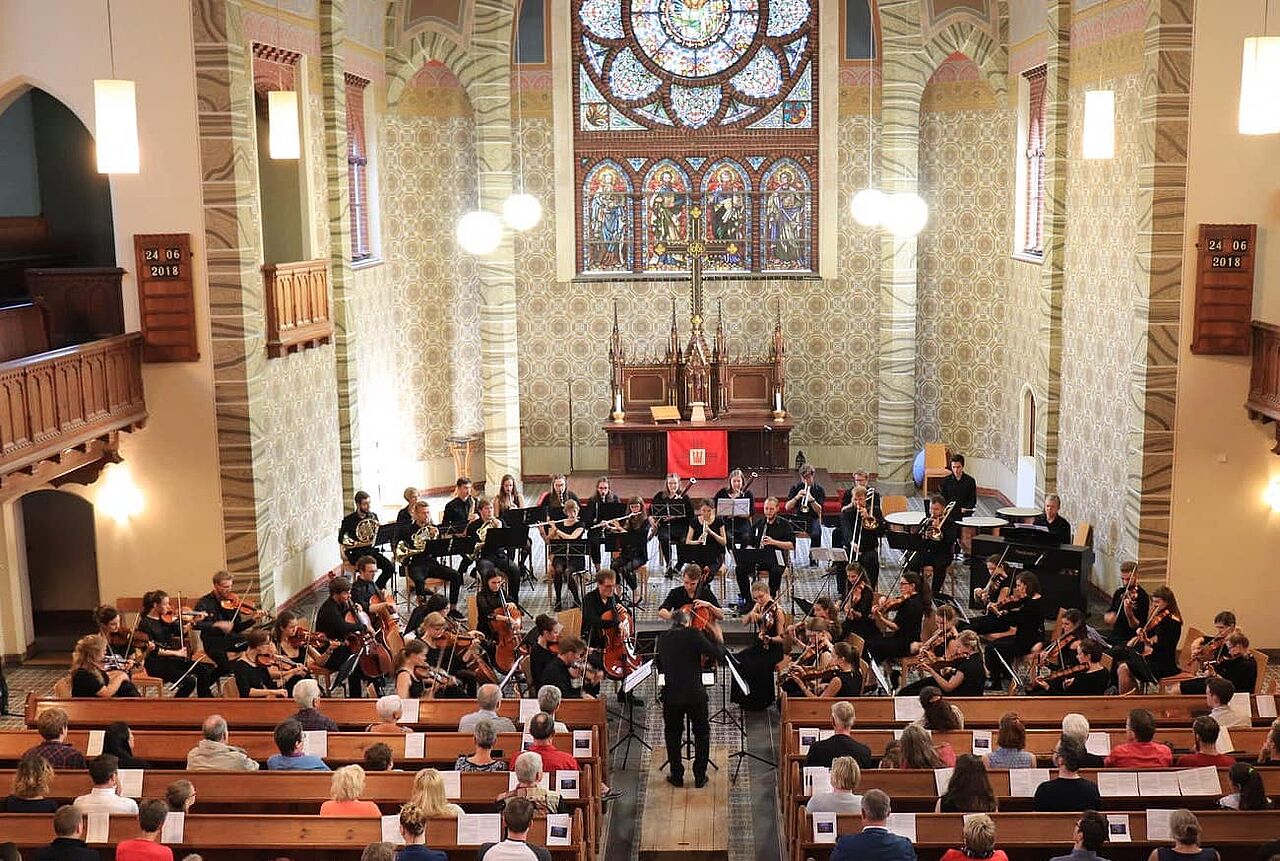 8
Summer concert 2018: St. Lukaskirche
9
Winter semester 2018: Paul-Gerhardt-Kirche
10
Immatriculation festivities of the HTWK at Gewandhaus, October 2017
11
Immatriculation festivities of the HTWK at Gewandhaus, October 2017
12
Immatriculation festivities of the HTWK at Gewandhaus, October 2016
13
Summer concert Paul-Gerhardt-Kirche, 2016
14
With singer Max von Wegen, 2015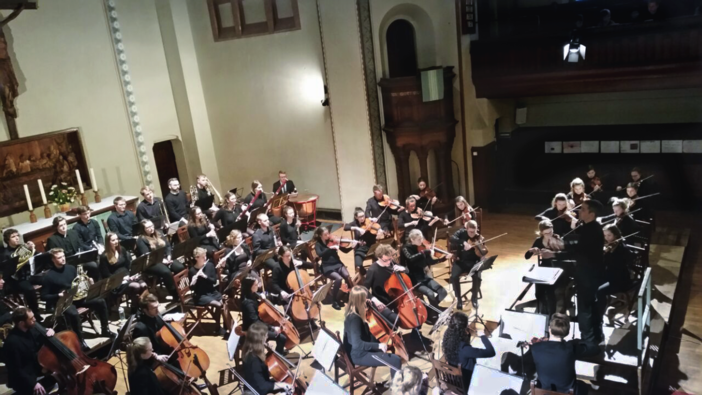 Wintersemester Abschlusskonzert Paul-Gerhardt-Kirche, Januar 2018